Charley's Philly Steaks Franchise
The #1 spot for cheesesteak, Charley's Philly Steaks have been a successful franchise since 1991. With an assortment of delicious hot subs and our fresh lemonade, Charley's is world-renowned and continues to expand, sharing our unique recipes with cultures far and wide.

Franchising has been a part of the culture at Charley's for twenty-nine years. With successful business partners all over America, and then all over the globe, you can't do better than investing in a Charley's Philly Steaks of your own.

Franchisor Details
Incorporated Name:
Charleys Steakery
Total Units:
-
Year Founded:
-
Franchising Since:
-
Home Office:
Columbia, MO
Training:
Available
Locations Available:
See Below*

Franchise Costs
Financing:
Via 3rd party
Liquid Capital Required:
N/A
Net Worth Required:
N/A
Total Investment:
N/A
Franchise Fee:
N/A
Royalty Type:
-
Vetern Discount:
-
*Charley's Philly Steaks is currently accepting inquiries from the following locations:
Values & History
When Charley Shin tasted a cheesesteak in Philadelphia for the first time, it was love at first taste. He decided to make his own cheesesteak restaurant, serving his teachers and fellow students at Ohio State. That was back in 1986. The restaurant was a huge success and in 1991 Charley found others who shared his passion for cheesesteaks and other delicious hot subs and started franchising.

Though the company has gone through a few different names over the year, starting as Charley's Steakery, then changing to Charley's Grilled Subs, the final branding came in 2012 — directing us back to our core history. Now, Charley's Philly Steaks are the number one cheese steak restaurant experience in the entire world.

It's because of the fresh ingredients grilled right in front of our customers, just the way Charley Shin himself used to do it from the beginning. We've never changed. We've never had to.
Industry Performance
We've expanded throughout 46 states in the USA and into 17 different countries! When a franchise has 600 locations, and a robust 34-year history, all of that pretty much speaks for itself.

Part of the charm of the franchise is that we focus on our small but tasty menu. With just our subs, different fry assortments, and some beverages to be concerned about, our streamlined system keeps overhead low and orders grilled to order but still made quickly and efficiently.

Fast and excellent service with healthy, top-grade ingredients leads to profitability and top rated grades. In 1999 Charley Shin was honored as the Entrepreneur of the Year by Ernst and Young. Today, Charley's Philly Steaks was ranked the #102 best franchise in the Franchise 500.

When you start off hot and still haven't cooled off three decades later, you know you have a formula for victory that is impossible to ignore.
Training & Support
We provide a lot of training up-front, starting with 60 hours of classroom training and 90 hours of on-the-job training in one of our restaurants. This comprehensive setup will get you from initiate to mastery level of our entire setup and system in just a few weeks.

We will help you with location scouting, financing options with third party lenders, and the lease arrangement. From the initial build to the grand opening, we'll be by your side at every turn. We support all of our franchises with marketing and publicity support, in-house systems for managing the restaurant, and assistance and advice from our experts at corporate HQ whenever you need a helping hand.
Ideal Candidate & Qualifications
We enjoy talking to people who have the same passion for Philly cheese steaks as we do! It's always been about that love and joy from the first day. If you are already a successful entrepreneur or restauranteur and you like the idea of joining our team of capable owners, then we'll be happy to discuss opening one or several Charley's Philly Steaks restaurants with you.

While our training is comprehensive and people from all previous walks of life have succeeded at building a Charley's, if you have marketing and advertising skills, have run a staff of people, especially chefs, and are a great communicator, then we know you'll be successful in our proven system.
Purchasing a Charley's Philly Steaks Franchise
Charley's is great as a location in shopping centers, airports, military bases, and wherever else foot traffic is at a high premium. Fast-casual restaurants, where food is cooked to order as the customers wait, is currently the most successful kind of eatery franchise in the industry right now.

We're positioned to continue our success story for decades to come, and we are interested in continuing our global expansion to put a Charley's Philly Steaks in virtually every country in the world, as well as continuing our dominance in the hot subs category with more locations throughout the United States.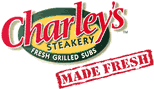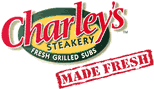 "*" indicates required fields