At JAN-PRO, we're so confident in our customers' satisfaction that we guarantee it. Our guaranteed cleaning services give them total peace of mind when it comes to workplace cleaning and hygiene. The JAN-PRO guarantee offers the assurance of a truly spotless clean, along with the extraordinary customer service that distinguishes our approach to commercial cleaning. Our guaranteed cleaning services are backed by our industry-leading cleaning systems, our high standards for cleaning quality and our responsive philosophy of service.
To buy a franchise with JanPro, you'll need to have at least $100000 in liquid capital and a minimum net worth of $500000. JanPro charges a franchise fee of $50000. They also offer a discount for veterans.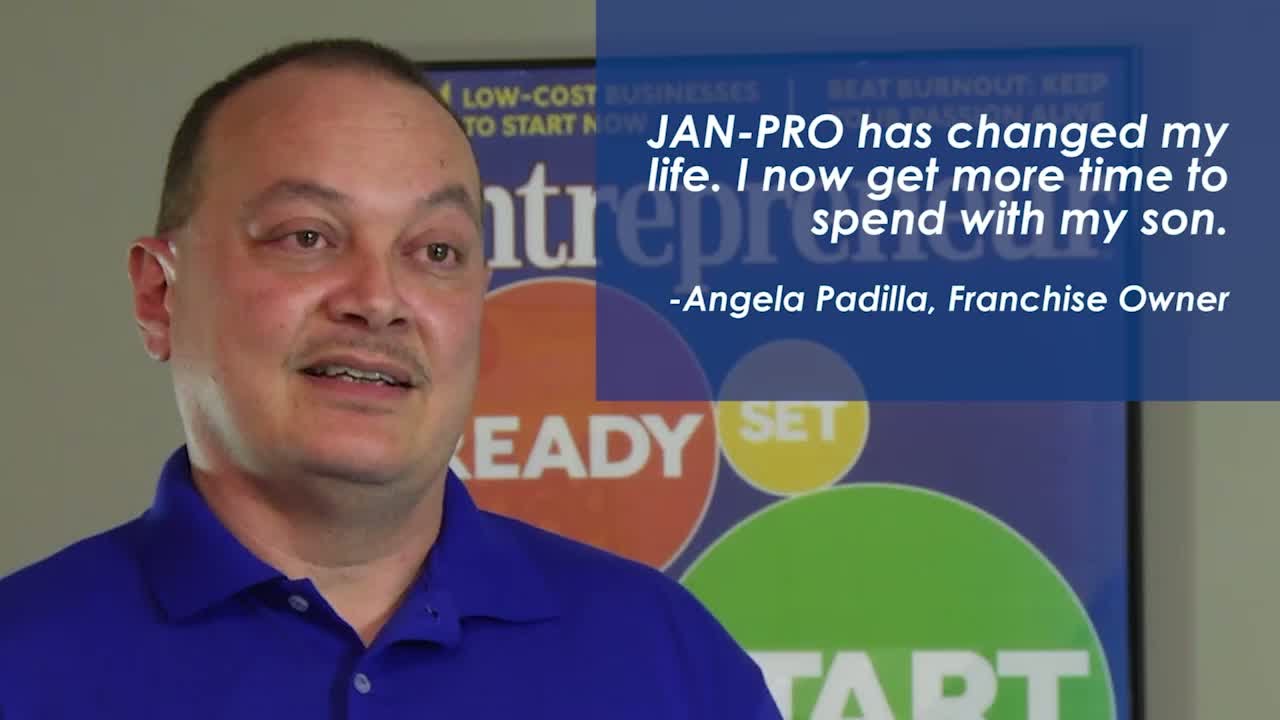 Franchisor Details
Incorporated Name:
Jan-Pro Franchising International, Inc.
Total Units:
115
Year Founded:
1991
Franchising Since:
1995
Home Office:
Alpharetta, Georgia
Training:
Available
Locations Available:
See Below*

Franchise Costs
Financing:
Available
Liquid Capital Required:
$100,000
Net Worth Required:
$500,000
Total Investment:
$127,500 – $250,000
Franchise Fee:
$50,000
Royalty Type:
4%
Vetern Discount:
Yes
*JanPro is currently accepting inquiries from the following locations: Alabama, Alaska, Arizona, Arkansas, California, Colorado, Connecticut, Delaware, District Of Columbia, Florida, Georgia, Hawaii, Idaho, Illinois, Indiana, Iowa, Kansas, Kentucky, Louisiana, Maine, Maryland, Massachusetts, Michigan, Minnesota, Mississippi, Missouri, Montana, Nebraska, Nevada, New Hampshire, New Jersey, New Mexico, New York, North Carolina, North Dakota, Ohio, Oklahoma, Oregon, Pennsylvania, Rhode Island, South Carolina, South Dakota, Tennessee, Texas, Utah, Vermont, Virginia, Washington, West Virginia, Wisconsin, Wyoming
Values & History
The JAN-PRO commercial cleaning brand culture is built on trust, reliability and excellence in cleaning. We offer customized commercial cleaning plans and dedicated support from janitorial cleaners who are franchise owners, not hourly employees. JAN-PRO requires its franchise owners to complete extensive training on JAN-PRO brand standards, the latest technologies, JAN-PRO branded programs and the latest cleaning techniques and a checklist of services. The combination of proprietary processes like our EnviroShield® disinfecting process — the same cleaning process used to sanitize hospital operating rooms — an extensive cleaning regimen each visit and ongoing training keep the JAN-PRO brand the leader in commercial cleaning.
Industry Performance
Why Us?
Ranked #1 Fastest-Growing Franchise in Entrepreneur's 2008 Franchise 500, the key difference between investing in a "fad" franchise and investing in our franchise is, the commercial cleaning you manage will never go out of style. As long as there are businesses, there will always be the need to maintain them. This is why we often refer to our industry as being "recession-resistant." Regardless of other economic pressures and consumer preferences, our industry and JAN-PRO, in particular, has thrived over the past decade. The Commercial cleaning industry is a $100+ billion-dollar industry and was projected to reach $140 billion by the year 2008.
Training & Support
Through our Master, JP Associate and Unit programs, you receive all of the training, expertise and technology along with the positive reputation of the JAN-PRO brand identity.
Ideal Candidate & Qualifications
The ideal candidate for a master franchise has a C-level background and excellent leadership abilities. Strong management, sales and marketing skills are highly valued.
Purchasing a JanPro Franchise
Available Opportunities:

JAN-PRO Master Franchise Opportunity
Our Master Franchise concept allows seasoned management or sales/marketing executives to capitalize on the business of becoming a franchisor. As a Regional, Master franchisee, one of the main responsibilities is to develop your region by selling and supporting Unit Franchises within their exclusive territory during normal business hours. The Master Franchise office then provides guaranteed customers, accounting, training, field support and marketing assistance.
Total Investment Required: US$100,000+

JP Associate Program
JAN-PRO Franchising International is best known for our national network of nearly 5,000 Unit franchisees and 87 Master franchise owners. Now JAN-PRO has introduced the JP Associate Program, which offers a unique level of franchise investment in key US markets that are not currently serviced by JAN-PRO. As a JP Associate Program candidate, your prior experience will most likely include a measurable track record in sales and/or management. Practical, hands-on experience in the principles of identifying, selling to and closing sales prospects would also be valuable assets. As a JP Associate, your responsibility is to identify, sell and manage the business relationships you create. You are also responsible for recruiting and supervising the employees who will perform various cleaning services under the JAN-PRO model.
Investment Range: US$65,000 - US$85,000

JAN-PRO Unit Franchise
The JAN-PRO Unit franchise opportunity is one of today's exceptional business opportunities, allowing you to enter one of the fastest-growing industries by safely becoming your boss through the guidance and support of an established franchise organization. Additionally, it's a business you can tailor to your specific situation -- you can start small, even on a part-time basis, and build the business to achieve your financial goals.
JAN-PRO's franchise program is one of the most comprehensive of its kind. Combining sound business practices and innovation, this program is designed to assist unit franchisees every step of the way and in every aspect of the business. JAN-PRO unit franchisees are in business for themselves, but not by themselves.
Investment Range: US$2200 - US$44,000


JanPro is a FranNet Verified Brand
FranNet Verified Brands are reviewed by FranNet to ensure legitimacy and industry required documentation.

"*" indicates required fields

JanPro is a FranNet Verified Brand
FranNet Verified Brands are reviewed by FranNet to ensure legitimacy and industry required documentation.